1988 Simod Cup Final
32 years ago today on 27th March 1988, the Royals won at Wembley for so far the only time. The madness of the last few weeks has reinforced what I've always said - it's not important what trophy you're playing for, sport is all about sharing moments of joy. Reading may have 'only' won the Full Members Cup, but it didn't matter, for fans of a club such as ours it was an incredible day. I've added a few bits and pieces to the Simod Cup gallery.
1970 Promotional Newspaper
Before the start of the 1970-71 season, the country's very first sponsored football tournament took place: The Watney Cup. It involved the two teams from each division that had scored most goals the previous season (other than promoted clubs or those involved in European competition). Third Division Reading had, in fact, scored most goals in the entire league with an impressive 87 under forward thinking manager Jack Mansell. Their reward was a home match against Manchester United, and on the first day of August the club welcomed the famous trio of Best, Law and Charlton to Elm Park. Reading acquitted themselves very well in an entertaining 3-2 defeat, with Jimmy Hill even comparing their football to that of Brazil, who had just won the World Cup in Mexico! Incidentally, penalty shoot-outs were introduced as a way of deciding drawn games for the first time, a system adopted for European competitions from that season on. The photo here comes from a promotional paper, 'Watney Cup News'.
1935-36 Newspaper Supplement
A lovely plain backed team photo, which is slightly bigger than A4 size, issued by London evening newspaper 'The Star'. After being relegated in 1931, Reading were incredibly consistent for the rest of the decade, finishing in the top six in each of the eight seasons in Division Three (South) before the war. During that time the Biscuit boys won an impressive 127 league games at Elm Park, losing just 13. By today's standards they did enough to win automatic promotion four times, but sadly for the club only the champions went up then.
1988 Newspaper
Following on from the previous post, today's date of March 2nd just happens to be 32 years to the day that the Royals won their semi-final against Coventry at Elm Park. When Michael Gilkes struck home the winning penalty in the shoot-out we didn't care that it was 'only' the Simod Cup - this qualified us for our first visit to the national stadium, and the atmosphere was incredible. The scenes on the Tilehurst Road after the game were fantastic as everyone was on a massive high; it was the kind of night you forget about all the disappointment and frustration that comes with following your team.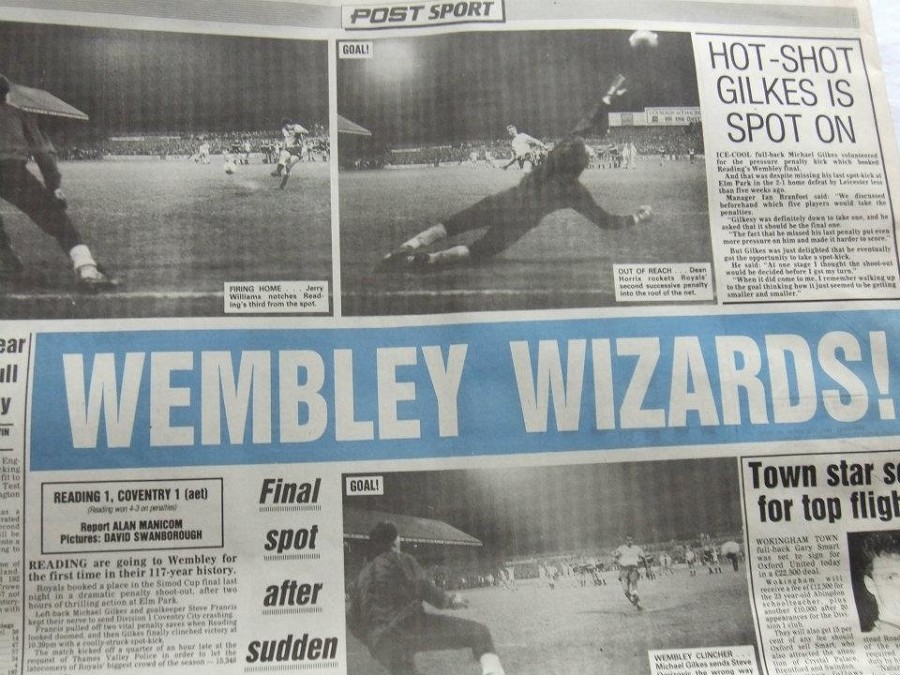 1988 Press Photos
Two fantastic original Press Association photos taken during Reading's Simod Cup final victory over Luton. The first shows Les Taylor celebrating with the scorer of the third goal Mick Tait, while in the other full-back Linden Jones enjoys his moment in the spotlight. The Royals have played at Wembley several times since, but this was the first, and the 4-1 win remains their only success.
Jimmy Wheeler 1933-2020
I was very sorry to read the news this week that one of the club's all-time greats Jimmy Wheeler had passed away at the age of 86. Jimmy was born and bred in Reading and spent his entire playing career with his home town club during the fifties and sixties. In all he made 453 first team appearances and scored 168 goals, one ahead of Ronnie Blackman and second only to Trevor Senior - in fact, Jimmy is the only player to feature in the top ten lists of goal scorers and appearance makers for the club. One of Reading's most popular figures, Jimmy was a loyal fan as well as player, and was a regular visitor to the Madejski Stadium during his latter years.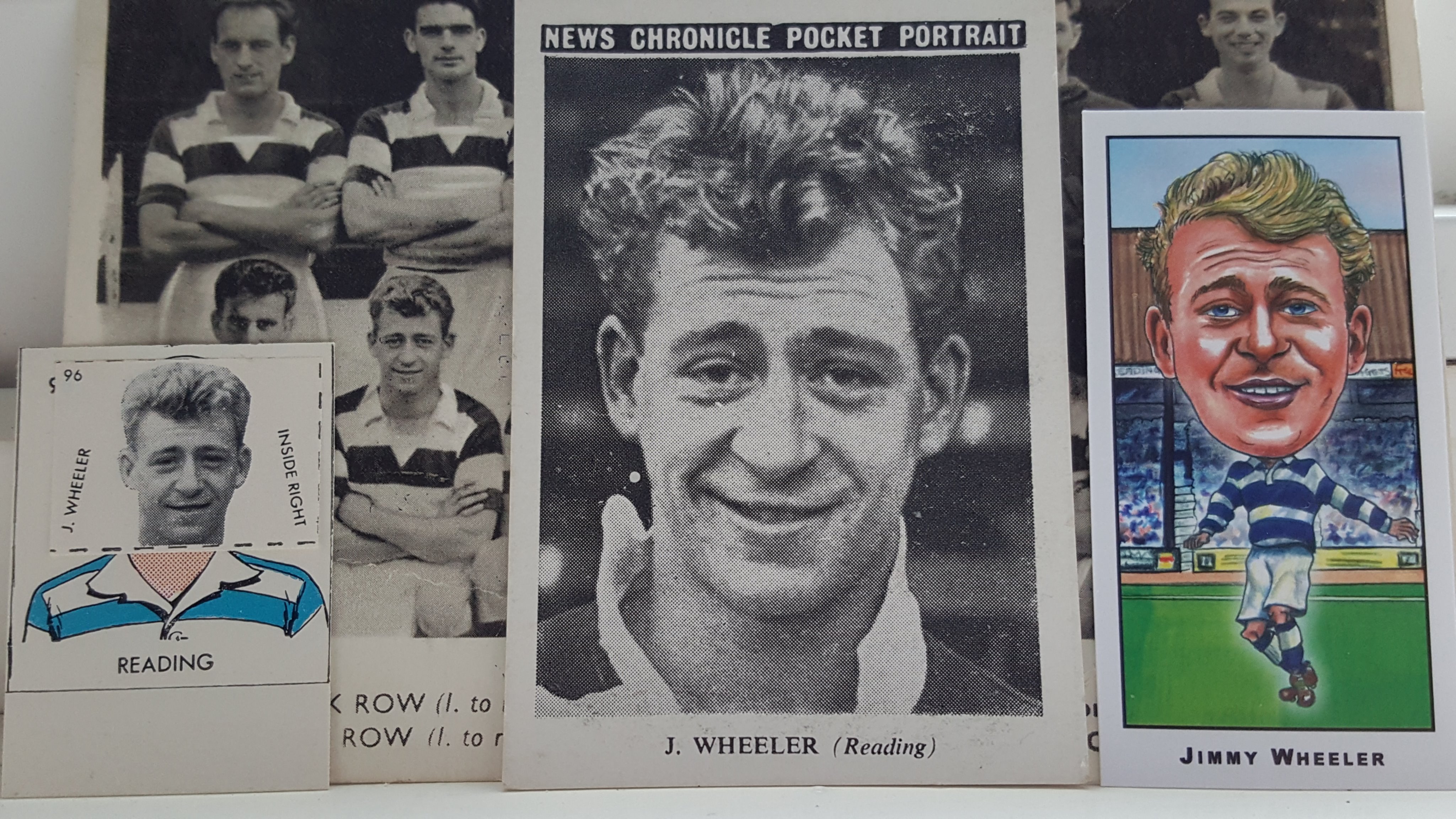 Harry Read's Medal
When I picked up this medal a couple of years ago I was confused as to what 'English Cup Division VIII' meant, but after a bit of research on the British Newspaper Archive website it all became a lot clearer.
The qualifying competition for the FA Cup in 1893-94 was made up of ten 'divisions' of between eight and sixteen teams, split on a regional basis. The 14 in Division Eight included Reading as well as teams such as Swindon, Maidenhead, Newbury and Southampton. The winners of these mini knock-out tournaments qualified for the first round proper (last 32).
Reading were still amateur at the time, and after reaching their final against local rivals Swindon, they were given little chance after being drawn away. On the day itself, several hundred supporters travelled to Swindon by train, with hundreds more gathering outside Messrs Farrer & Sons shop on Broad Street waiting for updates via telegram. When the news came in that Reading had defied expectations with a 2-0 win the cheering was long and load, with 'Good Old Reading!' the common cry. At 7pm the team and supporters arrived back at the station to be met by a crowd of several thousand, and the players were carried shoulder high through the streets accompanied by the Town Band. In this context it's easy to see why the players each received medals, and this one was given to inside-forward Harry Read.
After that the players were treated by captain Frank Deane to dinner at the Queen's Hotel, which was followed by a smoking concert, and a 'very pleasant evening' was spent. The Swindon team had indulged in a smoking concert of their own the previous evening - maybe not the best idea the night before a big match? Smoking concerts were, by the way, men only gatherings popular in the Victorian era, where they could talk politics whilst listening to live music.
In the first round proper things didn't go quite as well after Reading were drawn away to one of the great clubs of the day in Preston North End, and suffered their record defeat of 18-0! The amateurs were completely unprepared as they took to a pitch covered by inches of mud in smooth-soled boots, and had absolutely no chance against well drilled professionals who had sneakily attached discs to obtain grip on their footwear. The huge advantage it gave them can be gauged by the fact that a few weeks earlier Preston had lost to Marlow, who in turn had been beaten by Swindon.
1972 Press Photo
Charlie Hurley had just been appointed Reading manager when I first visited Elm Park at the age of nine in 1972. During his five years in charge he guided the club to its first promotion in fifty years when they went up from Division Four in 1976 - and famously quit at half-time during a game against Bury as the team headed towards relegation just a year later. The most memorable game of his tenure was a big promotion clash with Tranmere at Elm Park in March 1976, when Reading, led by the mercurial talent of Robin Friday, hammered their rivals 5-0. 'Charlie Hurley's Blue and White Army'... ahh, the memories!
1949 Press Photo
Had his Reading career not been interrupted by the war, centre-forward Magnus 'Tony' MacPhee would be far and away the club's all-time record goal scorer. As he worked in a reserved occupation for the local aircraft industry, he was able to play war-time football for the team on a regular basis. During that time he scored 217 times which, added to those he notched in regular pre and post-war football, gave him an impressive total of 321 goals in 377 games. This lovely photo shows him before a well deserved benefit game against Aston Villa in May 1949, played in front of an Elm Park crowd of 15,000. Before the match, a 1-1 draw in which MacPhee fittingly scored, the band played 'For he's a Jolly Good Fellow'. There's a faint 'Berkshire Chronicle' stamp on the reverse, and the picture appeared in the paper on the 6th May. He retired from playing at the end of that season and sadly died in 1960 at the age of just 46.
1924 Trade Card
This is one of the rarest Reading cards out there, but the actual kit design is not particularly accurate. The set issuer Battock used generic designs for several different teams, and Reading, for one, certainly didn't have a striped and hooped combination on their shirts. As fellow card collector Roger Pashby says, Battock played fast-and-loose with their kit colours! A quite naively designed but lovely looking card in great condition considering its age and the purpose for which it was produced.
1913 Newspaper
I picked up an original four page issue of the 'Football Observer' dated 29th November 1913, with the main story of the week telling the tale of one of the club's star players centre-half Ted Hanney's transfer to Manchester City. The club received so much criticism over the move that the player felt compelled to explain by letter why he himself had instigated it. Funnily enough I posted this story a while back on 'The Biscuitmen' after reading about it on the BNA site, and the original paper I found just happened to be the same issue. A selection of Ted Hanney memorabilia can be seen here.

Season's Greetings
A Christmas card issued by the club around 1950, and a lovely item it is too. If you are a return visitor to 'The Biscuitmen' then thank you for sticking with it, and if this is your first look I hope you find something of interest. I'm always looking to add to my collection, so please contact me if you have any Reading FC material for sale - the older the better!
1902-03 Newspaper Photo
A fantastic photo of the Reading team published in a weekly newspaper of its day, though I'm unsure of which. The Biscuit team had a very strong season in Southern League, finishing runners-up by three points to champions Southampton after losing just four of 30 games. After disposing of Second Division Burnley in the FA Cup Intermediate Round they held top-flight Nottingham Forest to an away draw, before falling to a thrilling 3-6 defeat after extra time at Elm Park.
Colin Meldrum 1941-2019
I was sorry to hear of the death of former Reading captain Colin Meldrum, who passed away in October at the age of 77. In 1963 new manager Roy Bentley made Colin his first signing, and he went on to make over 300 appearances until the end of the decade. The popular defender won the club's first two Player of the Season awards in 1964 and 1965, and is featured front centre in this magazine photo.
1972 Press Photo
Dick Habbin achieved the unusual feat of appearing in 48 league games in one season after joining Rotherham from Reading midway through the 1974-75 season. He'd arrived at Elm Park in 1969 and made 147 league and cup appearances, first at centre-frorward then from midfield, scoring 49 goals. This photo shows him before the Arsenal FA Cup tie at Elm Park in 1972, where the crowd of 25,756 has never officially been bettered for a home game.
1979 Photo
This wonderful shot comes courtesy of former Reading Evening Post writer Graham Nickless via his friend, ex-Reading Chronicle sports editor Roger Ware. It's the end of the 1978-79 season and the Royals have won the Fourth Division title. The Reading media mafia treated manager Maurice Evans to a box of cigars - and then helped him sample them! From left to right are Maurice O'Brien, the late Geoff Thompson, Graham Nickless, Brian Roach and Roger Ware.
1966 Press Photo
A superb shot of Elm Park I hadn't seen before which was taken by Aerofilms, who began photographing Britain from the skies in 1919.
1995-96 Squad Photo
After the heartbreaking play-off final defeat against Bolton the previous May, the Royals struggled for most of the season, only securing safety after a 3-0 win over Wolves in the last home game. Losing the brilliant keeper Shaka Hislop before the campaign kicked-off didn't help, but Reading ended up using seven different goalies over the season. That does seem a tad over the top, though one of those seven was joint player-manager Jimmy Quinn, who came off the bench to replace the injured Simon Sheppard against West Brom. This photo was taken by John Hawken, and appeared on the front of the club's calendar for 1996.
1985 Newspaper
34 years ago today on 12th October 1985, Reading created history by winning their 12th consecutive league game, the best by any club in English football from the beginning of a season. They stretched the run to 13 the following week, and it remains the longest 100% start since the Football League began in 1888.
1920s Pinnace Cards
I recently picked up a scarce album designed for these cards, though feel that inserting them in the pages would cause too much damage - but it does work well for illustration purposes. One of the small cards was given away with packets of ten cigarettes, meaning you'd have to smoke 1000 if you wanted to send off for a team photograph!
Len Vallard 1940-2019
I was very sorry to hear the news about former Reading left-back Len Vallard, who died peacefully at the Royal Berkshire Hospital on September 12th at the age of 79. Len arrived at Elm Park in the summer of 1958, but had to wait a year before making his first team debut in an away game at Colchester. During that match, which took place exactly 60 years to the day before his death, he suffered a broken wrist that put him out for the season. He ended up playing 40 games for the club over the following two seasons, scoring twice from penalty kicks, before joining Cambridge United. Len was also a talented cricketer and later played for a number of top local clubs in the Reading area. He is featured in this squad photo from the 1959-60 season, which is taken from the supporters' club handbook.
1908 Cigarette Card
Billy Beats was in his mid-thirties when he came to Reading in 1907, having enjoyed a long career in professional football. He reached the FA Cup final in 1896 with Wolves and won two England caps at the beginning of the century, before joining Reading's Southern League rivals Bristol Rovers. There he helped them to that competition's championship in 1905, though, unfortunately, this was at our expense as the Biscuit boys finished as runners-up! Billy hung up his boots in 1911 and took over as the team's trainer before becoming licensee of the Truro public house on Reading's Castle Street.